State Flag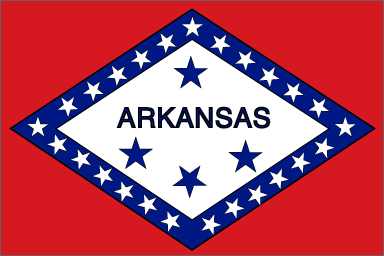 Click on the flag to go to the state web page
A diamond on a red field represents the only place in North America where diamonds have been discovered and mined. The twenty-five white stars around the diamond mean that Arkansas was the twenty-fifth state to join the Union. The top of four stars in the center represents that Arkansas was a member of the Confederate States during the Civil War. The other three stars represent Spain, France and the United States, countries that had earlier ruled the land that includes Arkansas. Flag adopted 1913.
State flower: Apple Blossom
Highest point: 2,753'
Motto: The people rule
Nickname: The Natural State.
State tree: Pine